Mint Talks Employee Engagement on the DSTV Big Small Business Show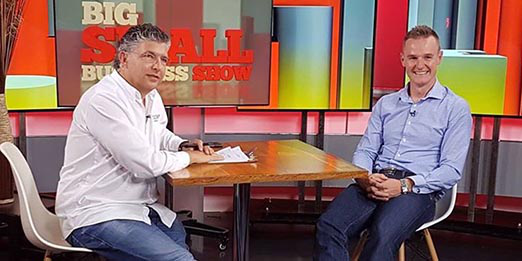 Taking his passion for employee engagement and social media fanaticism to the air, Mint Sales Executive Francois Pienaar was featured on the Big Small Business Show on February 7, 2017, to debate the value of involving your employees in your marketing strategy.
The emphasis of Pienaar's discussion was that, ultimately, employees are all brand ambassadors for an organisation and enable the most powerful form of marketing; word of mouth. Therefore, involvement should also be formalised through social participation encouragement guided by policies.
Brand ambassadors
When The Big, Small Business Show host Allon Raiz, CEO of RaizCorp, asked Pienaar why business owners should consider employees as brand ambassadors, he responded that "It's not about considering them as ambassadors as they automatically represent your company outside the workplace. Therefore, they are brand ambassadors upon employment, and organisations should be more proactive, focusing their efforts on ensuring that they spread positive messages.
Pienaar added that, with 30% of employees engaged, 50% not engaged and 20% actively disengaged, organisations need to try and move that needle to get more for less and squeeze productivity out of employees.
This can be achieved through internal platforms (Intranets) where employees can have discussions, share information, get to know each other and make the move from a workplace to a family. If employees feel like they are part of something that is growing and fulfilling their lives they will reflect this passion externally on sites such as Twitter, Linked In, and Facebook.
Social Media
Pienaar stressed, however, that guidelines for social media engagement should be introduced during the employee on-boarding or training process and should continuously be reinforced. "Try to expose your employees to what the marketing team is up to. Expose them to the benefits and cost savings of marketing and how it impacts THEM."
He added that final responsibility for social media messages and word-of-mouth referrals gone wrong should sit with the HR and Marketing departments and collective efforts should be introduced to manage and direct employees.
Ending off the show, Raiz asked Pienaar how one manages a disgruntled former employee, voicing his or her unhappiness on public platforms to which Pienaar responded "Tackle it head on."
"The social media sphere can be a funny place and something left up for open debate can turn nasty. If you have the facts, back it up and respond. If the individual is just spreading lies, then it will be a challenge, but if you are good to the people that work with you, the people that follow your brand should stand up for you."