Mint Group Sponsors GirlCode's 5th Annual Hackathon
Mint Group has long been investing time and effort in getting more young girls interested in careers in the technology industry. Mint Group HR Executive, Lauren Clark, notes that through various initiatives the organisation has succeeded in attracting female graduates, as well as host high school girls who are still deciding on their career paths.
One of these initiatives included participation in the 2018 GirlCodeZA Hackathon which comprised three events hosted simultaneously in Joburg, Durban and Cape Town from 3-5 August and enjoyed participation from over 400 girls.
"This event was significant for us as it was a hands-on opportunity to see the growth and depth of talent coming up amongst young girls in the technology field," explains Clark.
"We invited three of our own dynamic and talented developers to attend the Hackathon as mentors, giving guidance and input to the girls as they built their solutions. The three guys were then tasked with giving a short write-up of their experience at the Hackathon."
Mint Group Developers at GirlCodeZA
From left to right: Tshepo Mphelane, Sthembiso Mtyongwe, and Callian Berends.
Mint Group Developer Callian Berends described the event beautifully. "The first weekend of August we attended the Hackathon at 22 on Sloane where the ladies from Johannesburg hacked their way to stand a chance to win the Grand Prize, which was a Cisco sponsored trip to the International Women in Tech Conference in Amsterdam, the Netherlands. When we arrived on Saturday morning the ladies were already queuing up and ready for the hackathon, and they looked very excited to start hacking and to make new friends.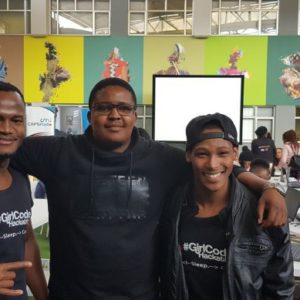 Us three mentors were just as excited and instantly clicked with the girls we were assisting. We actually made a seriously mean mentoring team because we had a variety of all development skills, so we were ready to answer any questions that the ladies might have had throughout the duration of hackathon.
It was also fantastic to have the Deputy Minister of Telecommunications and Postal Services, Stella Ndabeni-Abrahams, open the Hackathon formally and encourage the ladies with an amazing speech."
Mint Group Developer Sthembiso Mtyongwe agreed with Berends that the hackathon was an amazing experience to be a part of. "The ideas that came out of it were phenomenal and the skills displayed by all the ladies were impressive. There was an assortment of apps, websites and even games created and the fact that all of that was done in 24 hours is just amazing. The ladies showed great dedication to work through the night, and in the cold, to deliver awesome prototypes."
What was particularly insightful from Sthembiso was his observance of some of the issues women face in the male-dominated field. "Spending time and actually talking to them about some of these issues was enlightening. It's one thing to always hear about the plight of women in our industry from a third party, or in passing, but it's another to hear direct testimony from someone who lives that reality every day. I found that to be such an eye-opener!"
Lastly, Mint Group Developer Tshepo Mphelane added from his experience of the day that he was fascinated by the turnout and commitment these young ladies showed at the hackathon. "It was an amazing experience to have been part of the hackathon and experience the impact and passion that women have towards technology. I became aware that, when given the opportunity and platform, these young women can make a tremendous difference in the industry and deliver effective solutions. The innovative products and solutions that came out of the hackathon in the time given reflected organised planning, persuading presentations, and remarkable applications designed to help, empower, and improve the lives of others."
"Our three developers had a fantastic time, and all of them have confirmed they will definitely be participating in the next Hackathon. Well done to GirlCodeZA for hosting this initiative. Mint Group is thrilled to be a part of it, and we're looking forward to next year's event," states Clark.
Mint Group is a Microsoft Gold IT consultancy and systems integrator providing innovation and disruption in the digital age. As a Cloud Solution Provider (CSP) with expertise across all 3 Microsoft Clouds – Azure, Dynamics 365 and Microsoft 365, we craft solutions to help improve customer experience, increase agility, improve operational efficiency, and accelerate the digital transformation journey with AI and cognitive services for businesses and government institutions globally.