As the spread of COVID-19 unfolds, the world is experiencing a growing impact on citizen health and the economy. As such, businesses are increasingly faced with tough decisions to ensure business continuity.
Most organisations are focusing on people, costs, cash flow and the pivoting of business focus, where feasible, to assist society and provide needed services amid uncertain times. As a CEO navigating a Group of Companies through these uncertain times, I identified a few concepts that could guide organisational decision making in a world disarrayed by COVID-19.
It's Business as Unusual
It is critical for us to redefine Business as Usual (BAU) to Business as Unusual as nothing we are currently dealing with is known – not the quantum of the fall-out, the duration, or the related direct and indirect effects of COVID-19.
The key challenge that organisations are currently experiencing is uncertainty. COVID-19 is a global problem with organisations across the world in different phases of quantifying and qualifying the available solution approaches. The big question boils down to how organisations can make the right decisions if they don't know what to expect, rendering the COVID-19 problem as unique as a fingerprint.
When considering the Agile Problem–Solving decision model, the order of problem-solving amid COVID-19 can, in many cases, not follow the normal process. Amid ongoing uncertainty and rapid change, phase five (execute) often takes place much earlier in the process followed by outcome reviews and further prediction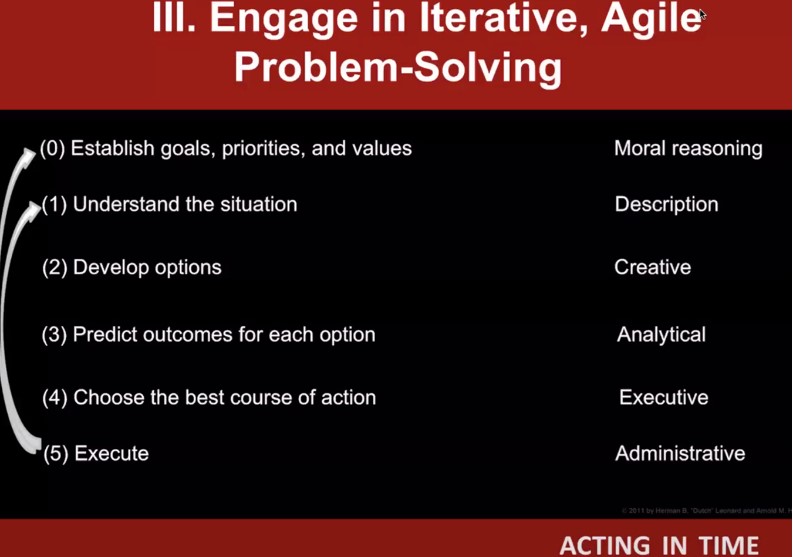 Agile decision model. Source: Harvard Business School
Phase zero remains the core of all decisions as the only solid and known guides available to organisations are the mission, vision and values they established prior to the outbreak of COVID-19. In addition, as events unfold, more data becomes available for review and prediction.
It is, therefore, important to identify the organisational-and-economic indicators that need to be tracked on a daily basis to cater to the rapid changes experienced. These indicators, coupled with an organisation's mission, vision and values, will guide the required decisions for BAU. It is also crucial to realise that, amid unprecedented times, there's NO right or wrong answer.
Traditional Risk Management Models No Longer Apply
The frequency and the consequences of the risks we currently manage are both uncertain.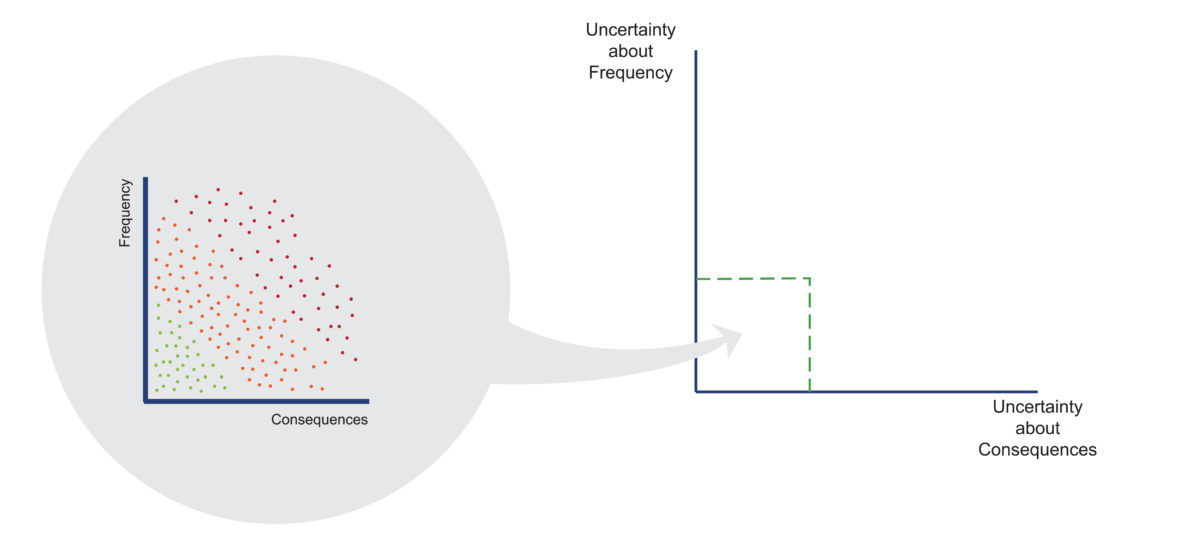 Usual Risk Management Model. Source: Harvard Business School
When analysing a standard risk management model, organisations can determine the consequence of a scenario and, thereby, plot a response. Currently, with COVID-19, the world is sitting on the far right and top of the model, aka in unchartered territory, hovering amid uncertainty regarding the consequence and frequency of our current situation.
To plan amid this uncertainty, organisations should make assumptions, study existing data and decide accordingly. These decisions need to be reviewed daily as it is crucial to consider what changed from yesterday to today, and study how that changes decisions and apply to BAU practices.
AI playing a massive role?
While AI could not have helped us prevent COVID-19 due to global fractured data sources, it is starting to play an instrumental role in managing the outbreak and flattening the curve.  In South Africa, every single person of interest's location is now tracked as part of the Government's Global Disaster Management initiatives. If you drive somewhere you should not, the Government will know. Usually, this would be a privacy concern, but in light of a global pandemic, it is a lifesaving initiative.
Currently, Government is spearheading initiatives to enable virtual diagnosis via intelligent chatbot technology, exposure tracking, fake news detection and mitigation, crowd thermal analysis, and resource deployment forecasting. The initiative to roll out mass screening of all citizens and residents will also go a LONG way in providing government and private sector partners with more data to make better informed decisions. All of these initiatives are driven by technology platforms, AI, and people.
The future of work is here
Remote work and the virtual workplace will be part of the new normal following the curb of COVID-19. We used to write about its potential and the significant impact that the virtual workplace will one day have. That day is here – ushered in at lightning speed.
Some companies might still get stuck in the past, and this is largely dependent on leadership. Overall, most industries will digitally transform at a faster pace, guiding in the new normal as we all work to merge the physical and digital worlds into a seamless blend of productivity, safety and efficiency.
I believe that the world will settle in the middle with a hybrid work approach. Why? Because people want experiences in both worlds with a holistic experience at every touchpoint.
The world will future-proof
As the global health crisis abates, the business continuity industry, and related technology services, will experience a rapid transformative boom. Just imagine the amount of BAU consulting that will follow COVID-19. Social boundaries will be redefined, organisational health and safety policies uprooted, and the perception of security & safety forever altered.
Concurrently, we will see amazing technological innovations unfold and become mainstream as industries arm and prepare the world economy for future disruptions. BAU models and frameworks will be reinvented to incorporate the learnings we gained from COVID-19 and steer organisations away from the severe losses we suffered.
The pandemic shook the world as we knew it, posing huge challenges for businesses, forcing them to rapidly adapt to new ways of working while coping with government-mandated closures and social distancing measures.
Through all the uncertainty, the only certainty that remains is that we are not in this alone. We are all learning, adapting and building a new world as we create a better tomorrow, together.