The way the world works has changed – a transformation fueled by a global pandemic and the rise of Remote Working as a viable, productive (and in many cases preferred) manner of getting the job done.  
Enabling this change in collaboration is a new generation of collaborative software applications which have chat and remote meetings at their heart. For those who use Microsoft Office – this is Microsoft Teams, which has soared from 13 million daily users in 2019 to 145 million in April 2021, to over 250 million in October 2021 (not depicted on the image below).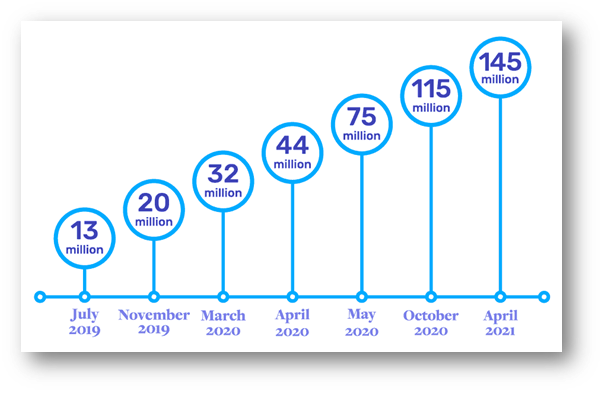 In many respects the teamwork journey may seem like a panacea – groups of individuals can rapidly form workspaces around a specific topic and chat, co-author documents, hold remote meetings and collaborate.  External guests can be invited to these teams and work without the fetters of "external sharing" which has hamstrung this type of cross-organizational collaboration historically (usually involving a mad dance of document versions distributed via email and FTP – and resulting in a merge-nightmare for some hapless soul). 
There may be a hidden cost to the unrestricted and unmanaged growth of teams, however. When teams are created sporadically, without consideration for the informational lifecycle – it can lead to duplication, hamper discoverability of information, obfuscate the organizational information ecosystem, complicate policy governance for the IT team and ultimately lead to team sprawl (where hundreds of teams have been created without a formal process, saddling the IT department with a governance burden to manage). In addition, when organizations have a sprawled Teams environment, it becomes very difficult for compliance officers and records managers to corral information into a governance pipeline for retention, review, and disposition. 
How Can Organizations Better-Manage their Teams Environment?
A strategy for providing teamwork governance starts with an acknowledgment that not all teams are created equal. Some teams have very long lifespans (such as departmental teams), others are centered around a particular project, campaign, opportunity, or event – and their lifecycles are tied to the lifecycle of that endeavor. Other teams may be oriented around a resource, or a location, or knowledge – and will exist for as long as the resource is available and relevant to the organization.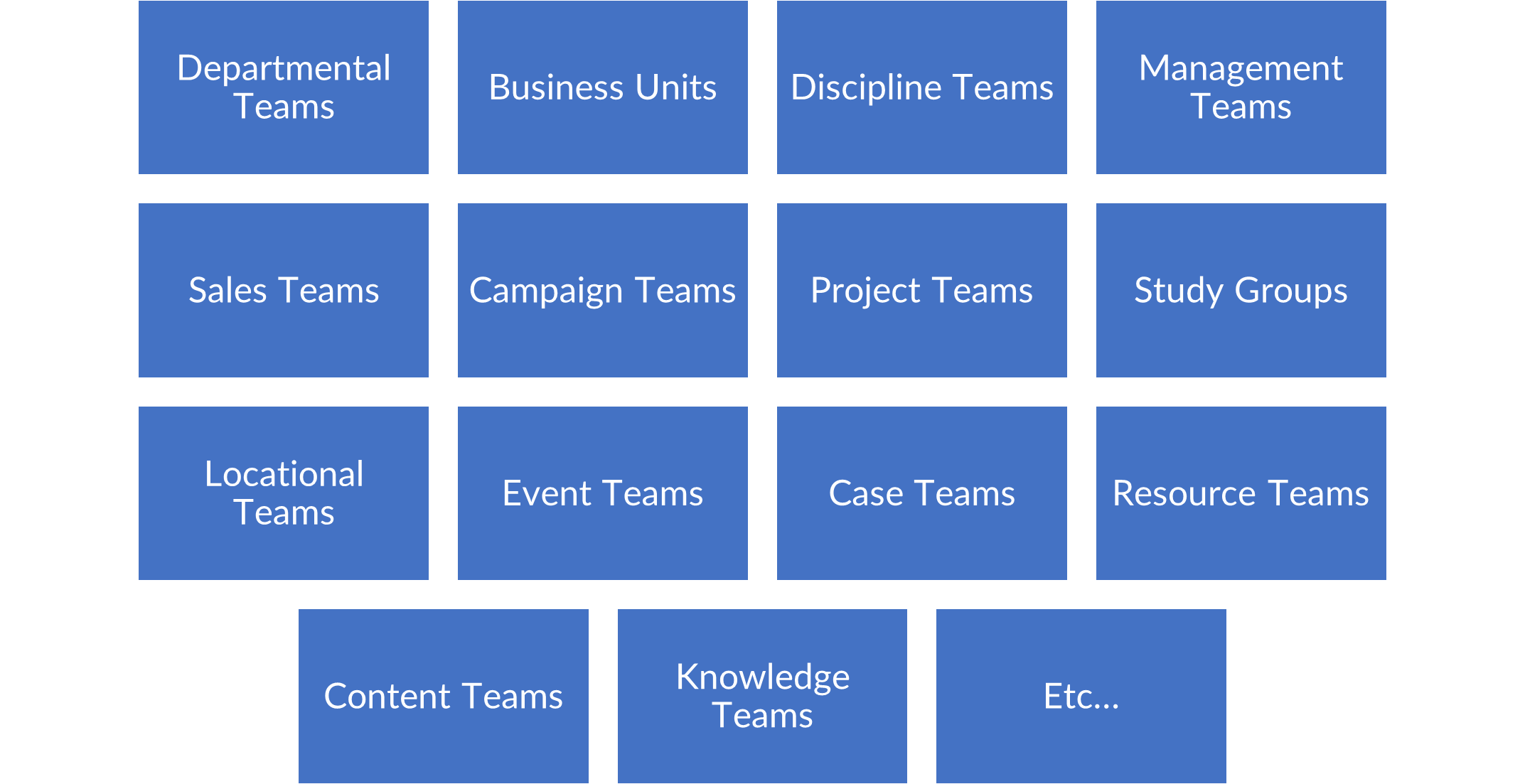 These teams have very different lifecycles (both in terms of length, as well as the critical events which happen at different stages of the team's lifecycle). It is for this reason that team management strategies which rely on reactive measurement of activity fail – months of inactivity may be normal on certain types of teams, and an anomaly on others). For this reason, is a best practice for organizations to approach teams' governance by investing in classifying the types of teams that are important to the organization and understanding their lifecycles. 

Ultimately the organization wants to work with individual business units in order to build out team profiles that answer critical questions related to security and access, informational content, intent, participation, and many other variables which are pertinent to building specific governance policies for each type of team.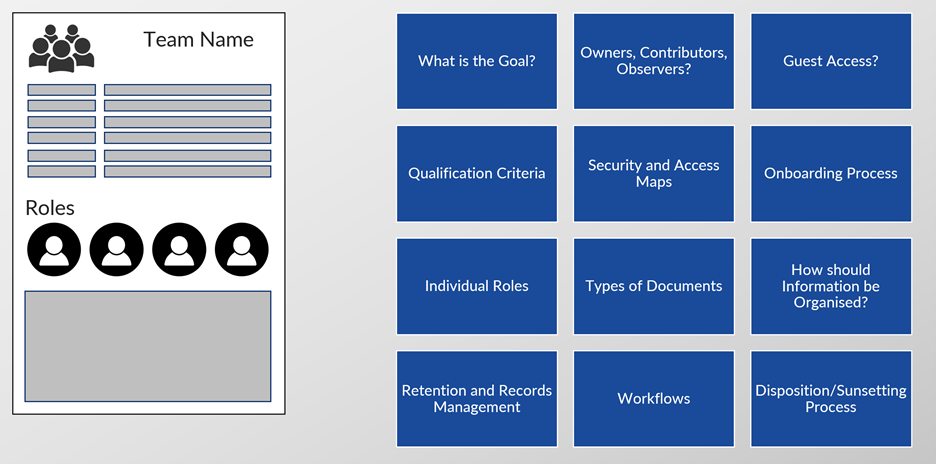 Understanding how People Interact with Information 
Understanding the Team Profile is the biggest part of the team's governance solution, but it is also relevant to understand how different people interact with information in different ways and build your teams to cater to this. Different generations will prefer different collaboration mechanisms, for instance, and will prefer to interact with teams in different ways.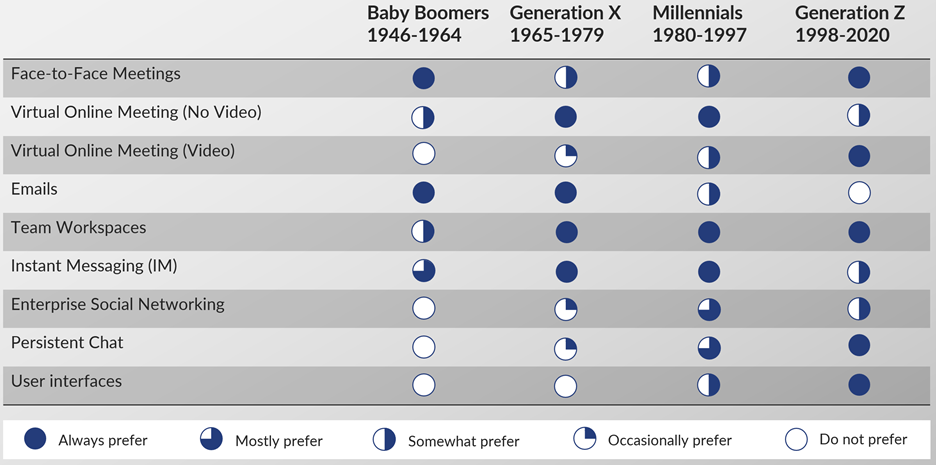 For this reason, it is also a valuable exercise to formalize the different roles who interact in a team environment and start to understand what their requirements are from Teams. The process of doing this starts to provide valuable information which will assist information managers, compliance officers, records managers, and IT administrators with a framework on which to develop policies that provide compliance and governance without crippling productivity and collaboration.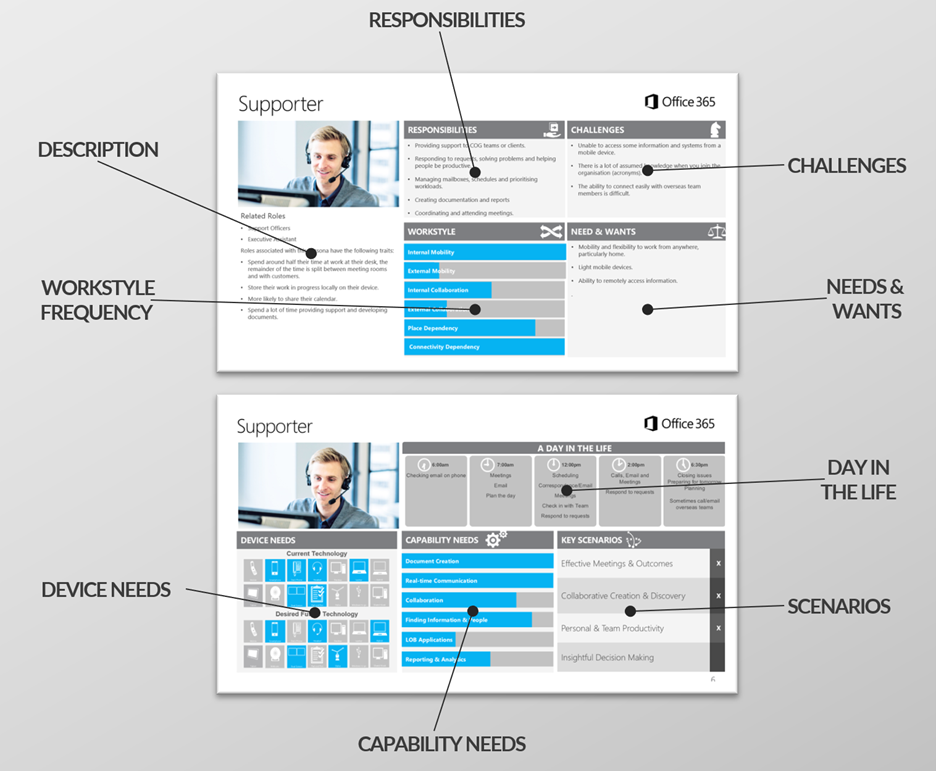 Map out Informational Workflows
It is also important to understand that team lifecycles are intricately intertwined with informational lifecycles, and that ultimately multiple teams may be involved during the lifecycle of a particular document. Since information and data are both an asset and a liability to an organization – it is vital that this is appropriately managed as part of a teams' governance strategy.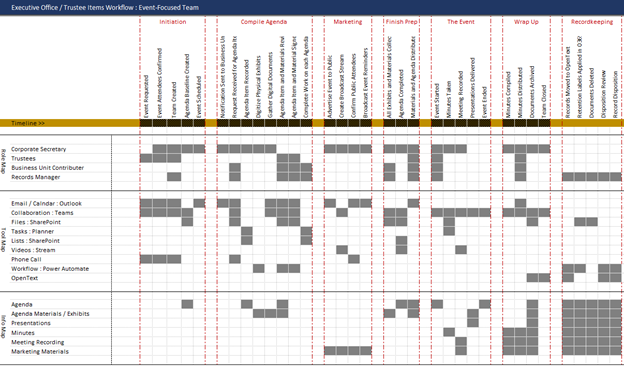 On average, only 12% of an organization's data is considered critical to the business, the remainder is ROT (Redundant, Obsolete, Trivial), or Dark Data. 
Operationalizing Governance Strategies
Armed with an understanding of the teams, processes, people, and information that comprise the informational ecosystem of the organization – the IT team should finally be in a good position to consider how to operationalize the Teams Environment in a governable fashion. The process of doing this involves creating and enforcing policies that are relevant to each of the identified Team Types to manage access, sharing, authoring, versioning, distribution, publishing, archiving, retention, disposition, and all other critical aspects of the workspace. In addition, it is usually best practice to establish a "Teams Center" where users can request a team of a particular type – providing qualifying information that can be used by business owners (and not IT) to approve the provisioning of the team. Team provisioning should be automated, so that teams are provided configured according to their intent, with all the necessary policies applied to the workspace, and all the informational workflows preconfigured. Finally, automated processes can be applied at critical stages of the team lifecycle to ensure that each team is properly leased, closed, offboarded, archived, retained, and dispositioned. 
How Can Smart Compliance assist with Teams Governance?
Smart Compliance is a framework targeted at effective and secure management and governance of information, including teamwork workspaces – and continuous compliance of the Microsoft 365 ecosystem to provide a turnkey solution for managing both the team and information lifecycle from cradle to grave.